Hi folks – doing a bit of catch up at the moment, covering a few book reviews I got too lazy to do towards the end of 2015. I thought that I might cover off on a few very brief reviews on a similar topic – Writing Advice. I'm still holding onto delusions of eventually developing into a writer, and so in last year I consumed large amounts of guidance and advice from a range of authors to develop my writing process, to refine and improve what talent I have, and to inspire my imagination.
Books on writing advice (as well as blogs, twitter, articles etc) are some of the best guidance you can get, but it's important to realise that every author is different, as are you. No one else's method is guaranteed to suit you, and I firmly believe that continuous practice and experimentation is the best way to figure out 'your way'. So my advice is to read many books on writing, check a range of blog posts and quotes on the different ways to do thing, and try them out until you find what works for you. After all this research? Well…'you do you', as it were.
That said…some advice books are better than others, so I'm  happy to give you my view of the following four books:
Part one (below):
Part two (in the next post):
30 Days In The Word Mines – 3 out of 5 stars
Beginning a story is, for me, terrifying.

The start of the story is me walking into a dark house that's not mine. I can't see a damn thing. I know if I move to fast, I could bang my knee on a coffee table or break a toe or trip and fall into that Murder Pit that's been carved out of the kitchen floor – hopefully I at least get a basket of lotion to go down with me, because time spent in any Murder Pit really dries my hands out (and I dont want to get the hose).

30 Days In The Word Mines – Chuck Wendig
I picked up 30 Days in time for NANOWRIMO, and it's marketed to be read over this 30 day period. Each day gets you a new topic, or section, that will assist or inspire you to completion of the Challenge. It's some very clever marketing, as NANOWRIMO is a large audience of interested people. But…I have to admit I was a trifle disappointed with this one. I am a big Wendig fan – his blog and his excellent PenMonkey series of writing advice books are entertaining and chock full of useful, quality, advice. This ebook though was…fine, I guess. It had some good moments, some useful advice, and was written in his standard characterful and profane manner, but ultimately it didn't really gel for me.
Why? Well, I'm happy to admit this could be because I have 'over-Wendig-ed'. I've Wendig-ed too hard. I have read four or five of his writing advice books now (in the last 12 months), and I guess it can't be helped that some topics sound same-ish, or recycled.
In addition to this, some of the sections were blank, or as good as. Day One consists of  "YOU CAN DO THIS. Trust me". Admittedly a lovely sentiment, but perhaps not the useful inspiration that a nervous new NANOWRIMO-er would have liked to see. These super-short sections felt…cheap, or perhaps worse, a cheat.
If you haven't read any other of Chuck's books and you can get this during a November Sale or in a bundle with his other works (here), pick it up – it does has some good stuff in it. But otherwise I would recommend Chuck's 'PenMonkey' or '500 Ways series', his blog, or his newer book 'The Kick Ass Writer' which I haven't read but seems to have strong reviews.
What did I take from this book?
At the very end of the book, in the appendix, Chuck brings out a harsh truth – the NANOWRIMO goal of 1667 words a day is not for everyone. You may not have the time, you may not have the attention span, you might not have the inclination. So he proposes another option – a mere 350 words a day, 250 days a year (see this blog post for the details http://terribleminds.com/ramble/2013/02/20/how-to-push-past-the-bullshit-and-write-that-goddamn-novel-a-very-simple-no-fuckery-writing-plan-to-get-shit-done/). Easily achievable, well within most people's ability. I think I might give this a go.
2k to 10k: Writing Faster, Writing Better, and Writing More of What You Love – 4 out of 5 stars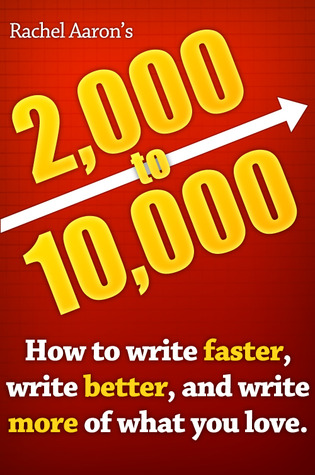 But that's the great thing about going fast. The novel starts to eat you, and you find yourself writing any time you can just for the pure joy of it. Even better, on the days when I broke 10k, I was also pulling fantastic words-per-hour, topping out at 1600-2000 words-per-hour, as opposed to my usual peak of 1500.

2k to 10k: Writing Faster, Writing Better, and Writing More of What You Love – Rachel Aaron
This one was short, interesting, punchy. That title was enough to get me to notice a while ago, but because I hadn't read anything by Rachel I held back from picking it up (although I had read a very positive review/anecdote on a fellow blogger's site which was encouraging). I still haven't read anything else by Rachel yet (it's on my TBR), but for the Kindle price of 99c –there was no reason to purchase it.
I'm glad I did.
This book is different than many other writing advices in that it strongly espouses the benefits of plotting your story – to an almost mathematical degree  – which is something I hadn't seen before. Many books on the topic talk generally about the benefits of outlining, or the pros and cons of Plotting v Pantsing, but Rachel has based this entire book on it. Every story line, every character, every scene, every…thing is plotted out first, summarised before you sit down to write. In essence, by detailing what needs to happen in each and every scene, the writer is able to sit and quickly write within the space they have already defined.
There is a lot more than that in this short book; Rachel goes through the process of analysing the best location to write, the most productive time of day, etc, and some useful tools (the triangle tool you can see half way down the page on Rachel's blog for example).
I appreciated the way she presented this advice in a manner that is mostly anecdote, a discussion on what she did, and how it impacted her work.
Recommended, particularly if you are interested in putting your writing practice under the microscope.
What did I get from this book?
After my abortive experience with Pantsing during NANOWRIMO, I already know that I am a Planner. I'm going to use these tips to expand on this natural instinct in planning things out in my stories, and keeping some metrics on my output. Let's see what happens.
---
Thanks for reading folks, if you remain interested, I expect to post part two in a couple of days at most. Part Two is posted here!
Let me know if you have read any of these books and what you thought of them in the comments.
Cheers
KT